AI and automation meet the mounting multi-cloud challenges
Why observability matters to your cloud strategy
The core concept of observability is using the external outputs of a system to understand its internal state. Modern multi-cloud environments with extensive collections of distributed apps are increasingly complex and dynamic, rendering older monitoring and managing approaches ineffective and almost obsolete. Walgreens Boots Alliance announced in August 2021 that it moved 122 customized applications used for corporate management and planning to the cloud as part of a new resource-planning system.1
The scale, complexity and dynamism of modern cloud environments far exceed IT teams' abilities to monitor and effectively support them. While 61% of organizations say their IT environment changes every minute or less, another 32% of them see changes at least every second or less. The new deployments require intelligent, automated and continuous modern observability solutions.2 Gartner estimates that by 2024, 30% of enterprises implementing distributed system architectures will have adopted observability techniques to improve digital business service performance, up from less than 10% in 2020.3
Observability challenges
Cloud environments are complex.

85% of companies view cloud apps as significantly more complicated than they were five years ago.5 Things get even more involved with 86% of organizations using microservices, containers and Kubernetes.6

Monitoring is not adequate.

90% of organizations say that distributed applications create more monitoring challenges than other apps.7 Frequently, the traditional monitoring tools do not scale and are inadequate for modern cloud deployments. On average, organizations use ten monitoring solutions and fully observe only 11% of applications and infrastructure footprint.8

Siloed monitoring tools and manual processes.

The states of modern clouds and monitoring tools are moving in two opposite directions. Nearly 69% of CIOs say that the rise of Kubernetes added many moving parts and complexity for IT to manage manually. A similar percentage of CIOs feel they need a radically different approach to IT and cloud operations management.9

Enterprises need to keep apps healthy.

As companies modernize in the cloud, their business becomes reliant on cloud-based apps. About 74% of CIOs say that their organization will lose its competitive edge if IT cannot spend less time "keeping the lights on." Additionally, 55% of CIOs consider visibility across the entire IT footprint as the most critical capability they need to manage the performance of apps and services.10

DevOps CI/CD requires real-time visibility.

The high frequency of app updates needs continuous visibility into products and test environments. About 23% of teams make daily app updates, which helps explain the view of 8% of IT professionals who see legacy monitoring tools as unsuitable for monitoring modern cloud apps.11

Skillset gap.

Observability and automation suffer from the scarcity of expertise. Nearly 48% of CIOs cite the lack of know-how as the primary barrier for automating more processes.12
Benefits of observability
Adopting modern observability brings consistent views and controls of the IT footprint. It also automates manual processes and delivers manageable real-time alerts to ensure a resilient environment and healthy apps. Observability provides significant business benefits, including:
Investment protection.

Effective automation helps redirect IT resources to valuable activities away from manual processes.

Informed business decisions.

Nearly 49% of IT professionals in organizations that use observability agree that it drives better business decisions.13

More efficient IT.

A national grocery store adopted automated observability and reduced IT support tickets by 99%, from 700 to only 7 per week.14

Higher DevOps productivity.

A multinational software company used automated observability to reduce deployment time for new services by 75%.15
A modern observability solution
Meeting the challenges of monitoring, cloud complexity, and the demands of agile DevOps and the distributed workforce requires complete, unified, intelligent, and adaptable observability solutions. An ideal modern solution must include: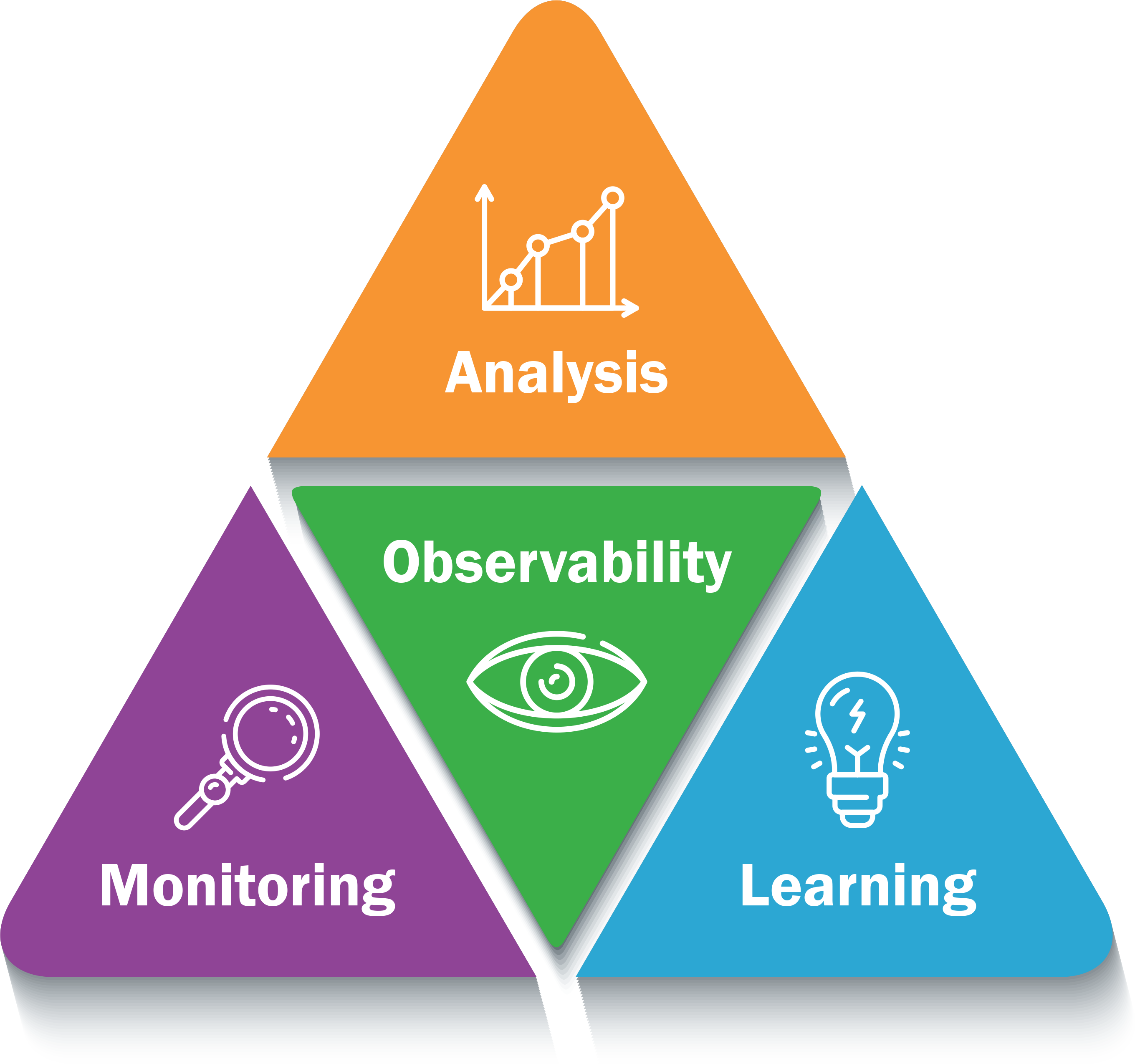 Integration with existing tooling.

While starting afresh may appear attractive, integrating or coexisting with current tools is economical and less disruptive. Nearly 51% of IT professionals see integration as beneficial.16

Automating discovery and IT processes.

Other than AI, nothing is more critical to implementing modern observability solutions than automation. On average, IT teams spend 44% of their time on manual tasks.17

Adopting AI/ML capabilities.

There is no doubt that monitoring microservices and containers in real-time is not possible. Containers are built and destroyed frequently, making it impossible for humans to track accurately. Furthermore, the volume of alerts is hard to grasp in real-time. AI-driven intelligent analysis is a cornerstone of observability. About 93% of CIOs think that AI assistance will be critical to IT's coping with workloads.18

Unified observability solution.

The right approach for effective observability works across all layers of the stack, provides context that facilitates cross-team collaboration and seamlessly ties together the lifecycle of the entire app. Understanding relationships and interdependencies are vital to understanding users' experiences and ensuring healthy apps.
Next steps
It is wise to consult your cloud business partner to assess your environment's state and needs. Ensure that your provider offers a single observability solution that can coexist with your current tools. It is also critical that the new solution is AI-driven with intelligent analysis. Finally, the solution needs to support the full-stack and complete lifecycle observability. Successful deployment requires support from senior management and solid buy-in from IT and DevOps teams.
1, WSJ-CIO Journal August 11, 2021. "Walgreens Brings 122 Apps to the Cloud."
4, 6, 10, 13, 16. VMware 2021. "The State of Observability 2021."
2, 5, 7-9, 11, 14, 15, 16. Dynatrace 2020 Global CIO Report.
3. Gartner September 2020. "Innovation Insight for Observability."
17, 18. Dynatrace 2020. "5 Challenges to Achieving Observability at Scale."