Moving Networking into the Cloud Age
Change is coming to telco cloud
When making a simple phone call or connecting to the Internet, few give thought to the layers of services that make possible what we take for granted. We utilize a massive telecommunications infrastructure behind the endpoint devices undergoing an overdue fundamental change to keep up with the data economy. The pandemic, 5G and SD-WAN and cloud adoption highlight the need for a telco cloud:
US household Internet consumption increased by 26% in April 2020, compared to January for the same year, highlighting the need for more networking bandwidth.1
The arrival of 5G, remote work and distance learning lead analysts to expect that 50% of the new infrastructure will be deployed at the edge by 2023.2
More importantly, about 56% of enterprises are either piloting, installing, or upgrading Software-Defined Wide Area Networking (SD-WAN).3
Also, nearly 66% of enterprises will deploy code to production daily by 2025.4
These sweeping changes call for a faster, agile, resilient and adaptable telco infrastructure to address evolving customer needs.
Challenges of existing telco systems
The telco industry has always relied on proprietary hardware and software solutions. This approach has made it more complicated and costly for companies trying to adapt to emerging technologies and customer needs.
Rigid infrastructure forces providers to divert investment away from upgrading technologies to keep the old infrastructure running. About 64% of operators say that technology, not business objectives drive their Capex planning.5
Proprietary systems complicate providers' efforts to adapt to changing technologies and customer needs. For example, in 2019, customers used 96X more data than in 2010, which calls for rapid networking investments.6
Increased cost. The continuing Capex spending of telcos will make up 53% of the network operators total Capex in 2025, up from only 9% in 2019.7 Something needs to be done to change the trajectory of this trend.
Telco cloud to the rescue
The telco industry has been hard at work for years to find ways to move telco workloads to the cloud. That is easier said than done as telco workloads have specific requirements that include performance acceleration, security and compliance and orchestration capabilities. That leads to the creation of the telco cloud.
Building a telco cloud requires two components, virtualizing infrastructure and adopting DevOps culture. The two disciplines deliver infrastructure as a service where telco workloads can live and allow DevOps teams to update the software to meet customers' needs continually.
Figure 1: Overview of telco cloud two-track solution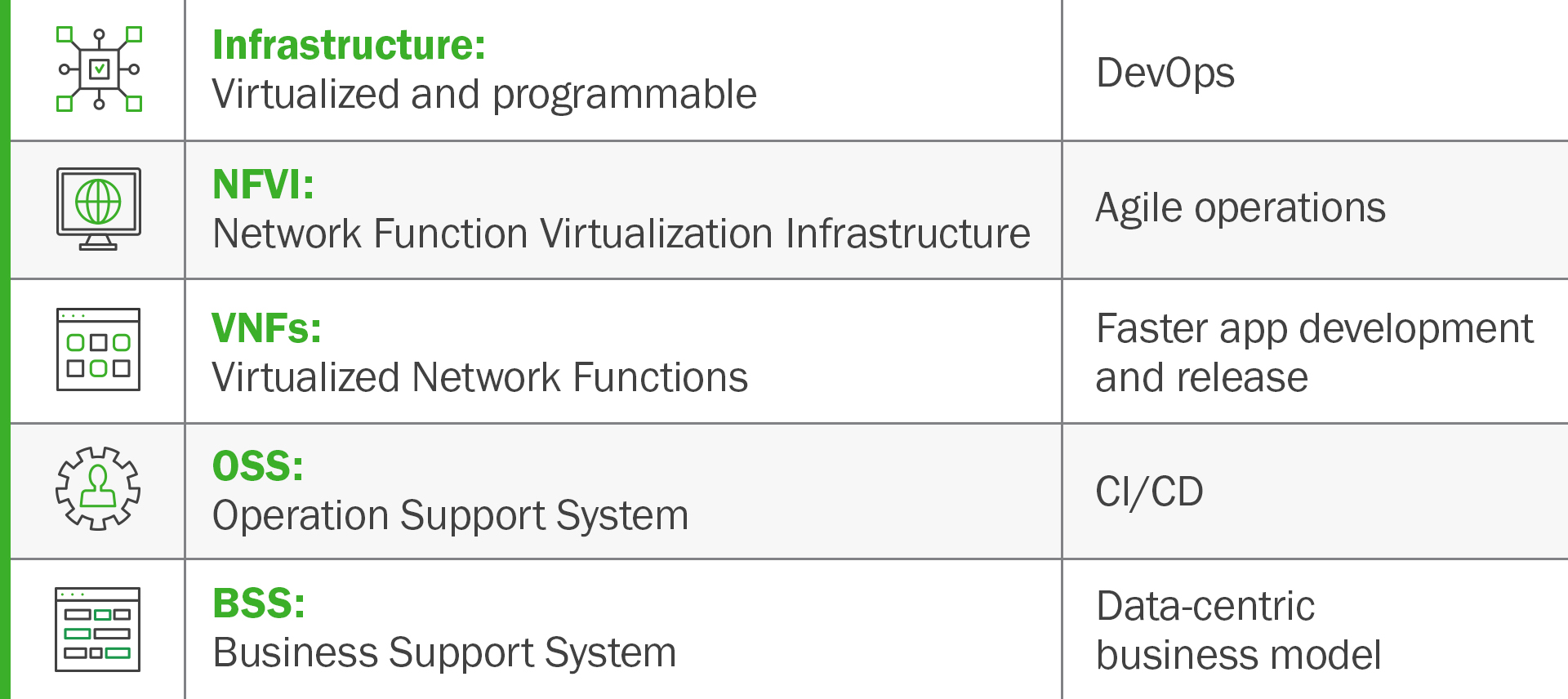 Benefits of telco clouds
Lower costs. Telco cloud automation allows for better utilization and reduced costs of hardware devices and software licenses with higher NFVs and cloud-native functions (CNFs) density that lower Capex. Automation and reduction of manual tasks reduce errors and improve service reliability, which reduces Opex.
Superior customer experience. Telco cloud enhances network reliability and resiliency, which leads to more satisfied and loyal customers with lower churn levels. Availability also leads to higher average revenue per user (ARPU).
Agility. The telco cloud offers a scalable platform that can adapt to current and evolving needs. Adopting the cloud DevOps model leads to faster time to revenue for apps development and releases. Companies would see even more revenue growth when they get to market first with agile development and CI/CD.
Security and compliance. Telco cloud offers support for robust security needed by the regulated industry. The telco cloud also ensures regulatory compliance with the prevailing rules and monitors the deployment environment for continuing compliance.
Conclusion
The rising demand for reliable and available networking services, especially for endpoint devices, necessitates faster, more agile and resilient networking and Internet services. The telco cloud brings SDDC to legacy telco data centers and combines that with NFVs and DevOps model to deliver a reliable and resilient high-performance network that moves at cloud speed. By embracing telco clouds, service providers lower their capital investments and operating costs, improve their time to value their apps and improve customer satisfaction and loyalty.
The Wall Street Journal April 15, 2020. "How Covid-19 Changed America's Internet Habits."
IDC June 2020. "Edge Computing: Not All Edges are Created Equal."
Help Net Security August 2020. "

SD-WAN

: A key enabler for remote workforces and enhanced security."
IDC October 2019. "IDC FutureScape Outlines the Impact "Digital Supremacy" Will Have on Enterprise Transformation and IT Industry."
PCW. "

Telecom Capital Expenditure

(Capex)"
CTIA.org August 2020. "

2020 Annual Survey Highlights

."
MTN Consulting December 2020. "

Network operators capex

to hit $520B in 2025."