There are DevOps lessons that IT leaders can adopt to support the future of an agile business
Taking a leaf out of the DevOps handbook, IT leaders are looking for a better way to have their operations teams serve the business more effectively and efficiently. The agile methodology is well suited to help teams overcome these challenges in efficiently delivering measurable value when the projects they are assigned to work on are:
Vaguely defined with limited up-front requirements
Peppered with technical ambiguities
Hampered by conflicting priorities
Successful agile transformations can deal with these realities to deliver efficiency and operational performance gains of around 30%.1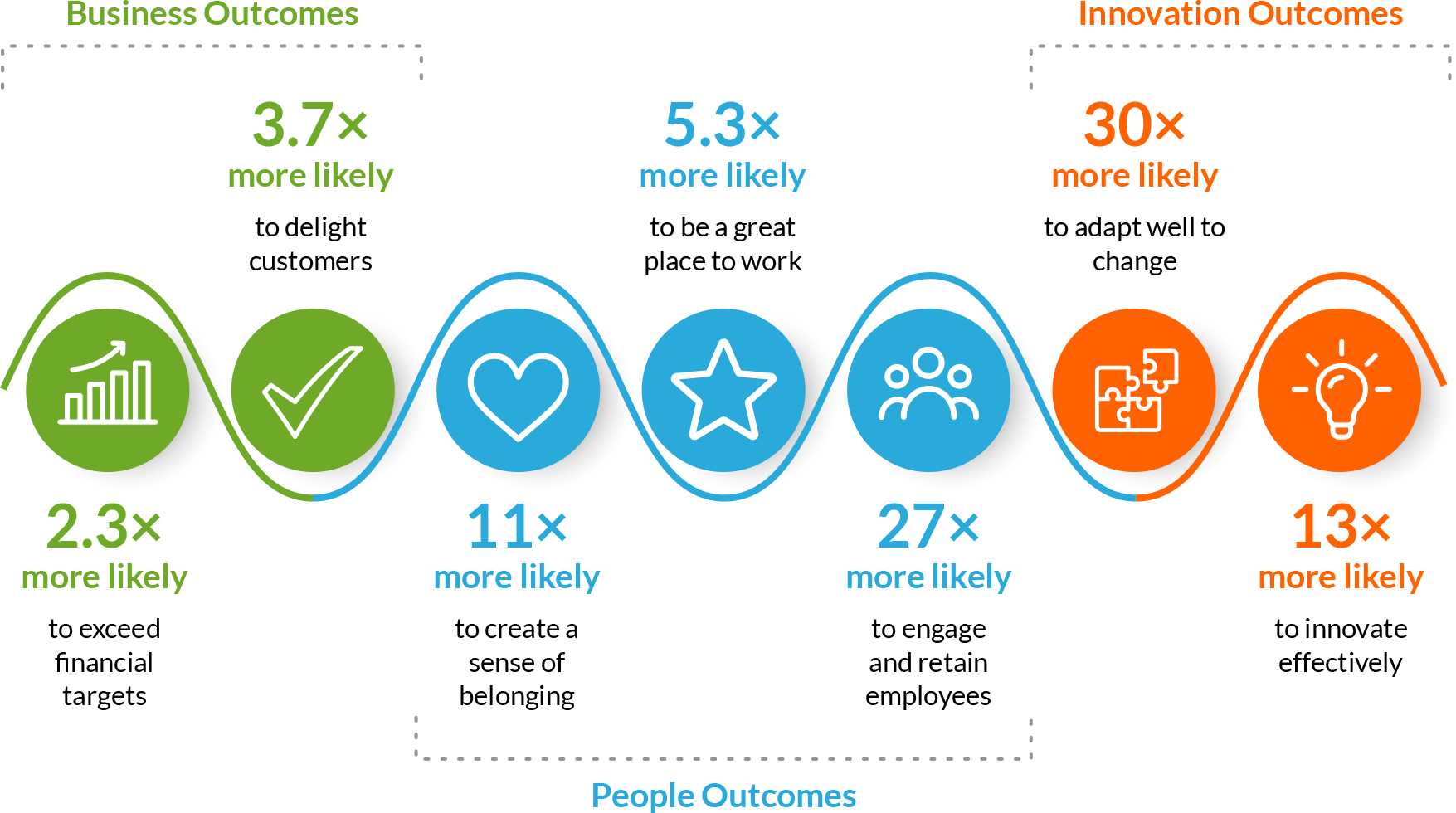 Source: The Josh Bersin Company, 2022
To succeed with agile IT operations, IT organizations must re-evaluate and re-wire their program to optimize for a high-performing and measurable IT operating model across their strategy, processes, people, and technology.
Strategy: Defining and planning
One of the most important shifts an IT operations team can make is to focus less on the program's technical details and embrace ambiguity throughout every aspect of IT operations. Agile processes give your team the freedom to break things down into smaller, bite-sized transactions that make it easier to:
Define success in a way that can get the support and buy-in from the business
Build a short, feasible, measurable plan that the team can rally around
Create a team comprised of the right experience and skills
Select a team lead that has vision, passion, and clarity for completing the tasks at hand
Identify the technologies and tools required to succeed
Don't be afraid to revisit and revise the plan, the team, the technology – and in some cases, even the desired outcomes
People: Staffing and culture
Take a moment to reimagine your IT operations organization as a group of diversely-skilled, high-performing teams, each tackling a specific outcome to meet each mini-plan of business requirements on time – again and again, and again. Picture these teams as purpose-built mini organizations focused on creating value over completing individual tasks.
Yes, you need a strong leader to bring their team through the ambiguity, changes, and other challenges they will face due to moving through the program so quickly. But the success of the team and its outcomes will be defined by how well they work together.
Process: Collaboration and Automation
The move to mini teams operating under an agile model can leave open some gaps between teams and outcomes. It's important to maintain (or re-create) these connections to ensure broad success is reached beyond the individual projects. Still, simplicity is essential. These connections shouldn't get in the way of being agile. A global report released earlier this year by Wolters Kluwer found that 82% of finance and operational leaders agreed they must be aligned and agile across different business functions.2
Technology: Tools and workflows
As various aspects of the program are broken down into smaller components (plans, teams, and outcomes), communication and collaboration increase in criticality.
As you work through this transition, be sure to explore the potential for decoupling stacks of technology from the program, opening the ability to apply the agile model to identify and employ the best, most effective options to meet the needs of the program at any given moment. Be sure to align the plans to existing and future infrastructure capabilities and the business outcomes desired.
Measurement: Auditing and adjusting
With a successful agile operations program in place, some organizations experience 20-30% of their priorities can be refreshed every quarter, pausing or stopping low-value work, and focusing on high-impact results that deliver better outcomes more quickly.3
Regular evaluation and continual improvement must sit at the heart of the IT organization's culture connected to the results of their efforts. At periodic intervals, the team must reflect on how to become more effective with more frequent assessments used to institute modifications to the plans, processes, teams, and technologies.
Remember the outcomes
Sometimes it can be easy to get caught up in the 'how' and 'what' of things being accomplished. What can sometimes get lost in the mix, however, is the 'why' we are making this transformation in the first place. Keep the outcomes front and center, and be sure to validate that each part of the program:
Identify discrepancies in the plan
Fill the gaps in people, processes, and technology
Refine and re-define the infrastructure to support your efforts
Work with the business to adjust the expected outcomes if necessary
The whole point of being agile is to be flexible. This requires setting and re-setting expectations continuously, which requires constant, clear, and open communication.
The impact of agility: How to shape your organization to compete, McKinsey, May 2021
2022 global CPM trend report, Wolters Kluwer, April 2022
Agile funding: An investment management approach to funding outcomes, McKinsey, October 2022